Amber film is a small, independent company for the production and distribution of documentary and experimental films and videos. Based in Berlin, the company was founded in 1994 by filmmaker and director of photography Rolf Coulanges, who graduated from the cinematography and directing programs at the German Film and Television Academy (dffb) in Berlin in 1984, and began his career as a director of photography and director of documentaries for the German public broadcasters NDR and ZDF. He is joined by Haitian director Claudette Coulanges, who graduated from the International School for Film and Television (EICTV) in San Antonio, Cuba in 1993. She has made a number of documentaries including CHERCHER LA VIE.
Chercher la vie
Amber film's activities primarily involve the production and distribution of independent films for cinema and television, partly in partnership with various film foundations in Germany. The company also contributes its camera equipment and editing suite to other productions, mainly when Rolf Coulanges is on board as director of photography.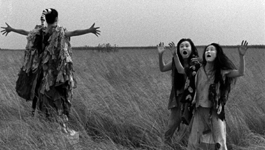 Thematically our films focus on the politics and culture of Latin America and Africa and their roots in various arts and societies, as well as music & dance and their history. We are generally involved in the productions as director of photography and / or as directors, and we develop also scripts and projects in the fields of artistic, experimental and documentary cinema.
To date, Amber Films has produced and distributed six feature-length documentary and experimental films, which premiered at major international film festivals and have gone on to screen theatrically around the world.
Das Prinzip Dora