No other country of the south has evolved, but also altered its music in the last 30 years to the same extent as Jamaica.
This film portrays the genesis of Reggae music, which has its origins in the deportation of many Africans as slaves to the British colony of Jamaica. The development of Reggae reflected the struggle against racist oppression and exploitation, which after the victory over the colonial powers in 1962, directed itself against the destruction caused and left behind by the former government.
In the 1950's, the Jamaican seasonal workers returned from the southern States of America, bringing the first transistor radios and records, and with them Rythm & Blues to their home country. The new music was transmitted directly by radio from Florida to the towns and villages of Jamaica, where the traditional Caribbean music, the Mento, and the Calypso with its African rythm, were at home.
Musicians began to combine elements of Rythm and Blues with traditional Jamaican music and the African rythm. Results of their experiments were Ska, then Rock-Steady and finally in the late 60's, Reggae.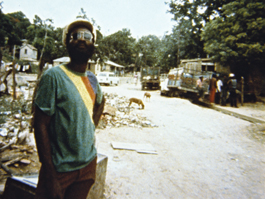 Radio and records have introduced a new chapter to Jamaican music, as Reggae would no longer be conceivable without recording studios and records. A few years ago the D.J.'s travelled around the country with their mobile "Sound Systems" and played the latest records from the USA and later from the Jamaican studios at the local dances. Today you can find record shops everywhere in Jamaica, where the latest hits recorded in Kingston are played. The music throbs from huge loudspeakers on the streets. Here the young people listen and dance to the music, some of them all day long, as only a minority have a chance of finding work. They explain why they love Reggae. A young musician from the ghetto explains the connection between Reggae and ghetto life and the meaning of Rastafari to him. A group practises their new song, hoping they will soon get the chance to record in one of Kington's studios.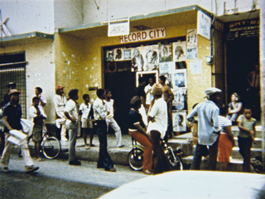 Credits
| | | |
| --- | --- | --- |
| Director | | Rolf Coulanges |
| Cinematographer | | Rolf Coulanges bvk |
| Writer and Editor | | Ursula Dieterich |
| Narrator | | Donnie McDermott |
Original version
English/Creole with English subtitles
Production
German Film- and Television Academy, Berlin (dffb) & Rolf Coulanges
Distribution
amber film Berlin
© amber film Berlin, 1981